It has taken me almost 2 weeks to write this post but I feel it would be wrong not to write about our first camping trip of the season. We are all a bit older and able to handle the cold a bit better so bravely we stayed at WOWO campsite in East Sussex for a night during the February 1/2 term. Ian was on a cricket coaching course in the warm so opted out! (excuses, excuses!) Anyway Saturday morning as we drove to the campsite it started to snow; not just a few flakes but a blizzard!!! It was not forecast so Abbie called Ian who reassured us that it would stop (from the warmth of the house!)
I had heard lots of great reports about this site and we were not disappointed. The lady at the reception could not have been more helpful and showed us where all the tree swings were on the map.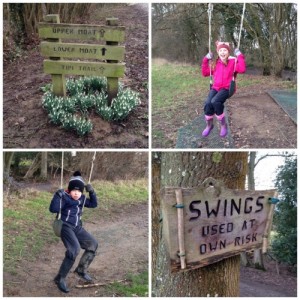 The tree swings were one of the main reason for visiting the site and the great thing about camping in February is that you have all the swings to yourself!!!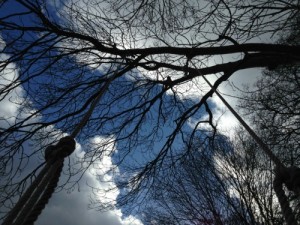 The thing I love about a tree swing is the view you get when you look up to the sky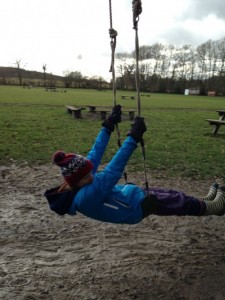 As you can see we were dressed for the sub zero temperatures (hat, gloves, fleeces, waterproof coat and trousers and wellies!)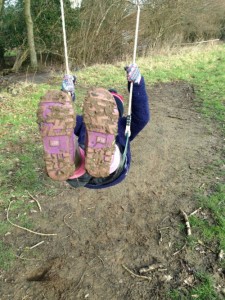 After the swings to warm up we had a fire and tried out my new toasting grill with some ciabatta rolls (v Waitrose)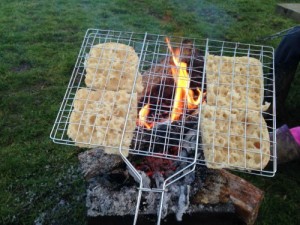 Most of the other campers were staying in the yurts and tipis. Abbie would love to live in a yurt or a tipi so was v excited to finally stand next to one.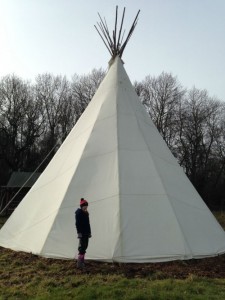 There was no electric hook up at the site so we slept in fleece pjs, with 2 sleeping bags and a hot water bottle and stayed really warm.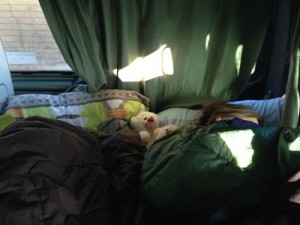 I slept upstairs as it was a bit colder and had the most amazing view in the morning of the frosty field.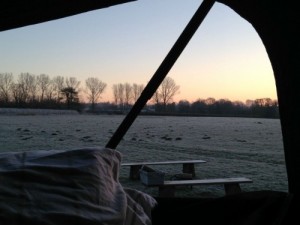 We had parked next to some v excitable ducks who woke us up early quacking. After an hour we realised that they were upset that their water bowl was frozen so topped up their water. They then quacked even more loudly at us every time we walked over as they thought we were their new friends!!!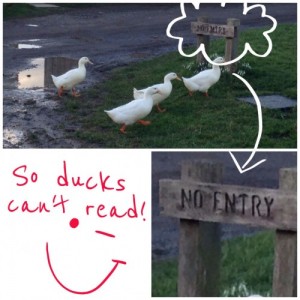 Abbie and Harry modelling their fleece pjs – Harry described is trousers as a bit 70s!!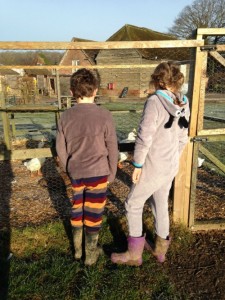 So if you like tree swings, tipis, yurts, white ducks and all things hippy I would definitely recommend this campsite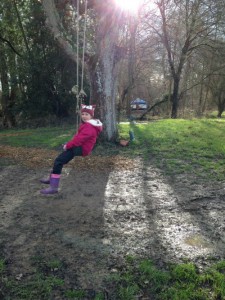 http://www.wowo.co.uk/