So finally our summer holiday blog post – 4 campsites in 2 weeks – Southern Burgundy to the Jura region to the Ardeche to St Aygulf (near Cannes)

Overall a brilliant experience but what did we like best and were there any low points……
Best Campsite
There is a choice of 4, well actually 5 for this category (I will explain later!)
1) Château de l'Epervière
Set in the grounds of a beautiful Chateau in Southern Burgundy – had a really small pool and limited play area but in a good location for an overnight stay.
http://www.camping-castels.co.uk/camping-chateau-de-l-eperviere-id253-id_camping336.html
2) Domaine de Chalain
A campsite at the edge of beautiful Lake Chalain with amazing sunsets but plots quite close and no soap or loo roll in toilet block! Plots muddy due to recent heavy rain and grass a bit long.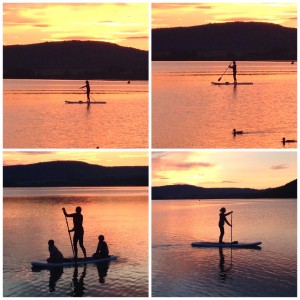 http://www.chalain.com/uk/camping-village-jura-site-officiel.php
3) Camping Nature Parc L'Ardechois
We were allocated a noisy plot next to the bar and pool but otherwise 5 star camping with excellent toilet block. Poor access to river for swimming / SUPing but perfect for kayaking. Great on site service to hire kayaks – book your distance and they will take you and the kayak to the start point and pick you up at the other end.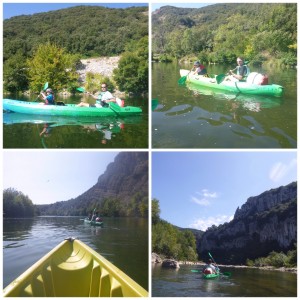 http://www.ardechois-camping.com/en/
4) L'Etoile D'Argens
Large, private plots, plenty of activities included in the camping fees including swimming pool, tennis, mini golf, archery and a boat ride to the nearest beach! You need to take rock pegs as ground v hard!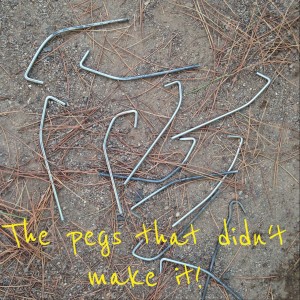 The boat from the campsite to the beach was a great idea as parking was difficult and expensive. We were advised by the campsite reception that the last couple of boats back were busy and if there wasn't room, women and children would be given priority and the men would have to walk 3K!! (v Titantic!) Anyway the 2 French gentlemen running the boat made every effort that no one was left behind even if it involved sitting on other passengers laps!
http://www.etoiledargens.com/en/
Our verdict – Etoile D'Argent – loved the boat ride!
Best location for Swimming
1) Lake Chalain
Very clear water – best early morning and evening but much colder than last year so better for SUPing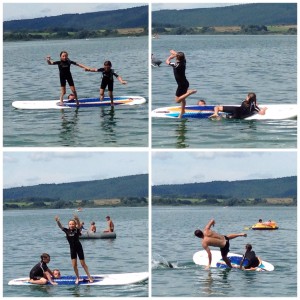 2) Le Gour Bleu at Cascades du Herrisson
30 minute walk from car park up waterfall – you need to wear 'grippy' shoes. Very crowded walk but definitely worth a dip  – v cold +++! A first for Abbie and I to swim next to a waterfall!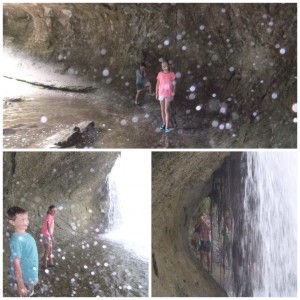 3) Pont D'Arc – Ardeche
Very busy but 'a must do' –  take care to avoid kayaks and rock jumpers. Wear shoes as rubbish (glass) on beach. River caves to explore by kayak or swimming.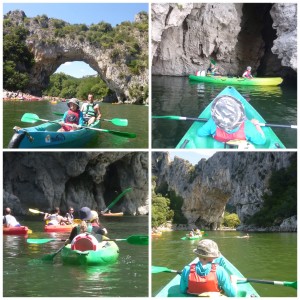 4) Small beach on the River Glueyre, St. Sauveur-de-Montagutnorth, N. Ardeche
Beautiful river beach with a natural infinity pool. Brown tinge to water put off Abbie but amazing scenery.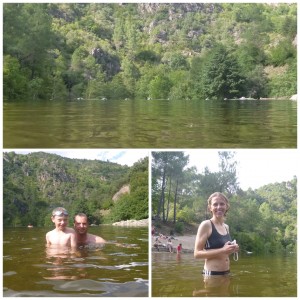 5) Beach near St Aygulf
Lovely sandy beach with warm clear sea. Roped off swimming areas but avoid walking through nudist zone with giggly children

6) Plage des Graniers, St Tropez
Small cove beach with v expensive beachside café just east of main harbour in St Tropez. Brilliant for snorkelling –  reef with lots of fish and v warm water. We took the ferry from St Maxime to St Tropez to avoid the traffic.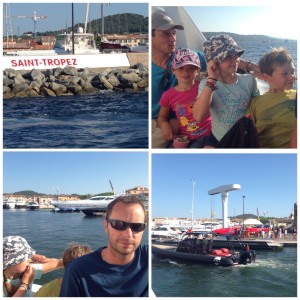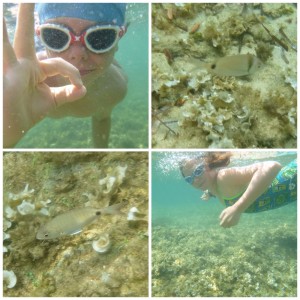 The coffee in the beach café was 3.50 Euros which would have been OK but the amount they served was the amount that I usually leave in the bottom of my mug (if you know what I mean!)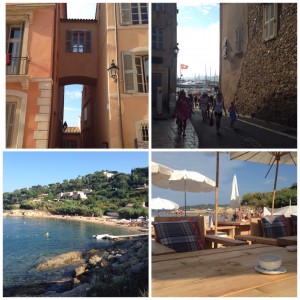 7) River next to campsite at L'Etoile D'Argens
Very clear water, some boats so watch no one reverses into you when swimming!!
The winner? Plage des Graniers at St Tropez – love the fish

Best weather
Jura -Mountainous so colder and sometimes wet – good for walking and SUPing but cold for swimming
Ardeche – Much warmer but not too hot – great for waterpsorts
French Riveria – Very hot and dry – definitely Ian's favourite weather but too hot to sleep some nights.
Best campsite entertainment
A clear winner – L'Etoile D'Argens' interpretation of Tin Tin – very alternative but good for the children's French!
To be honest there was not much competition for this category – only the mini disco playing 80's hit 'Superman' in Dutch and lots of Shakira / Europop also Tom Le Clown and a French version of Strictly

Best Adrenaline experience
Kayaking down the Ardeche – particularly descending the concrete channels in the weirs – brilliant fun!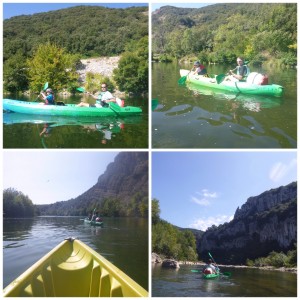 Best sandcastle
Harry, Abbie, Livi and Toby's creation on the last day at the beach near St Aygulf – many admirers stopped to look!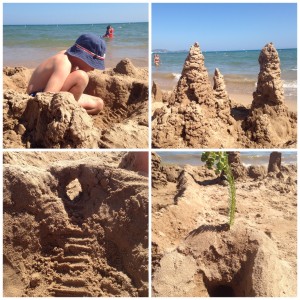 Favourite camping sport
No this wasn't the trips to Decathlon. The choice  – tennis, table tennis, boule, SUPing, swimming, kayaking, waterpolo, water volleyball, beach bat, snorkelling and mini golf.
I think for Harry this would have to be water volleyball – his favourite shot was to the hit the ball as if he was holding a cricket bat – out to sea while diving into the water – v funny!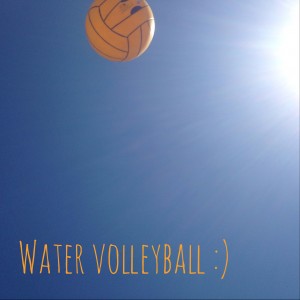 I forgot to mention the other sports tried  while we were away on the SUP – Pilates/ Yoga and kite SUPing with a small power kite. The Pilates / Yoga while on the SUP was a great success but apparently embarrassing for the family (Abbie!) even though I wasn't close to shore. Found warrior pose too hard but the shoulder stand was achievable!
Kite SUPing worked until the kite landed in the water and the pockets filled with water! It was OK once the kite dried out but we probably needed a bigger kite!
Worst Sat Nav error
This was on the drive from Lake Chalain to our site in the Ardeche. Ian put 'Camping L'Ardechois' into the Sat Nav and we arrived at the campsite many hours later to be told that we were at the wrong campsite! We had booked at 'Camping Nature Parc L'Ardechois'!! (How can there be 2 campsites with almost the same name in the Ardeche??) The Dutch man at the reception told us he was sorry but our campsite was 2 hours drive away!! Fortunately we made the most of it and stopped at a river beach close by before driving to the right campsite…
Abbie would like to rename the roads through the Ardeche 'Hell roads' as they are v v windy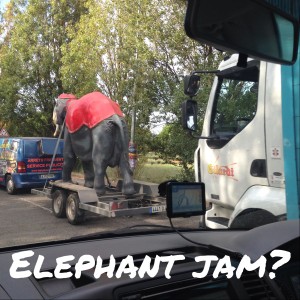 Worst person to share a campervan / tent with
Abbie!!! She is a seriously disturbed sleeper – Ian moved out and slept in the awning!
Bravest member of the family
Harry! After capsizing on the Ardeche – what a star!
Most unusual animal spotted
It looked like a cross between a beaver and otter (and Ian said a rat) but it swam across the pond at our first campsite and then sat on the grass!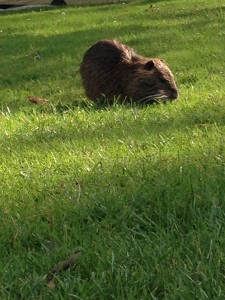 Person to carry most to the beach for the day
Despite Ian carrying the SUP in a 'marine style' Bergen – I think this award goes to Mike – he definitely needs to cut down on the luggage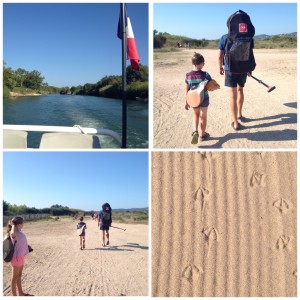 So overall – Des Bonnes Vacances!