I have been reading Alastair Humphreys' website this week http://www.alastairhumphreys.com/microadventures-3/
He describes himself as an adventurer, author and motivational speaker who promotes the idea of adventure accessible to all! So what is an adventure, what is a microadventure and are we already doing this without knowing?!!!
"Adventure is only a state of mind. I believe that adventure is about stretching yourself: mentally, physically or culturally. It is about doing what you do not normally do, pushing yourself hard and doing it to the best of your ability." (quote from website!)
So with this definition in mind I guess this weekend we had a microadventure as we stayed in a hotel – not something we would normally do and for Abbie and Harry (and me!) it stretched us culturally but probably not mentally and physically – unless you count the time spent in the steam room and sauna! Chris, my stepmother, celebrated her 70th birthday at Tudor Park in Maidstone as most of her family live many miles away. Dad had invited us to stay too even though it is not far, which was really kind.
Abbie, Harry, Isaac and Ira enjoyed the 'Spa experience' using the pool, sauna and steam room followed by relaxing in their own room, complete with TV and mini bar (they were warned to stay away from the mini bar.) We then had a party downstairs complete with party poppers and noisy balloons, which kept Isaac entertained for many hours (including during grace!!)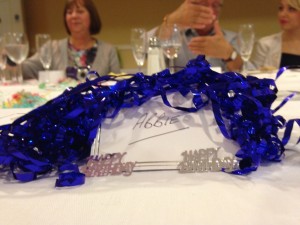 Anita and I without consulting dressed both Harry, Isaac and Ira in check shirts for the evening!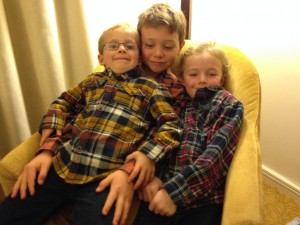 And Anita and I without consulting both chose religious themed presents! (a sister thing!!) Anita bought Chris a bread of heaven bread board and Abbie and I designed a All things bright and beautiful cushion on not on the highstreet. (Chris is a retired church minister)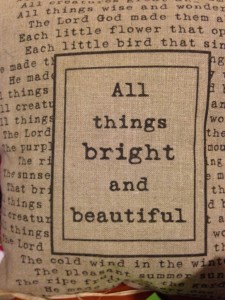 I had to transport the giant balloons to the hotel on one of the windiest days of the years!
Happy Birthday, Chris! Sorry I didn't get any photos of you but Abbie was in charge of the photography!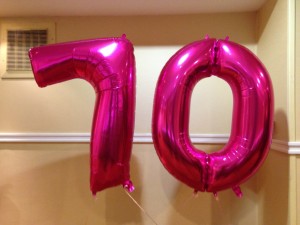 Anyway our microadventure continued the next morning with the buffet breakfast – this was Harry's idea of heaven! Baked beans on toast, pecan slice, chocolate muffins, croissants and bread and jam.
A big thank you to Dad and Chris for inviting us – we had a brilliant time.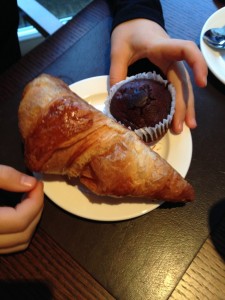 Sunday afternoon we returned to our usual type of microadventure – the muddy, outdoor kind of adventure – we walked up castle hill. Harry took the very muddy route and ended up travelling home in a bin bag

Looking forward to some more winter microadventures.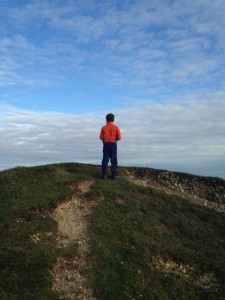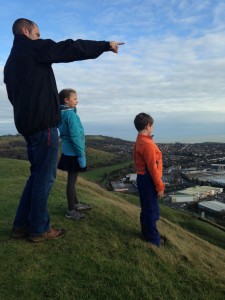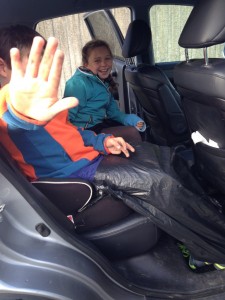 P.S. I found my new dream home looking down from castle hill – a house with it own private swimming reservoir